How's the market? The age-old question that realtors get bombarded with at every turn. It seems pretty straightforward. There's only three words. One of the words is a standard in a realtor's day-to-day life. But what the asker may not realize is that there are many markets, and these markets are all at different variations of stability.
Here's an example. Remember that little thing that happened in '08? The housing crisis?* The market crashed, there was no foreseeable change for the better in sight and the world economy was in a panic.
But at the same time, the agricultural market was strong and remained strong through the crisis that plagued its counterpart.
In fact, when you look at the graph below, the market for agricultural properties has had pretty similar trends for the entirety of the last decade. The biggest change: a huge spike in average sale price at the end of '07 to the beginning of '08, right when the housing crisis hit.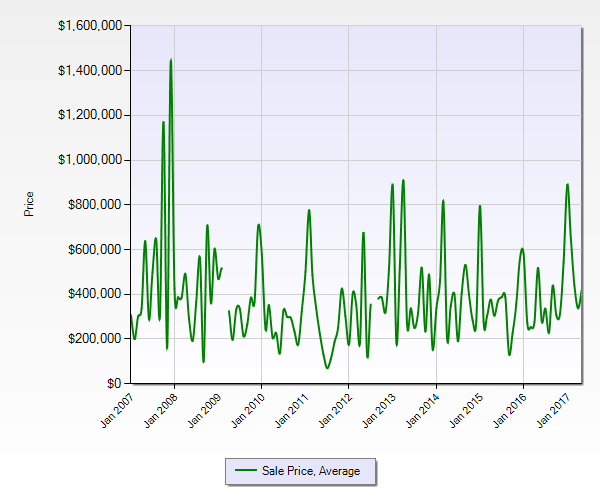 (This graph depicts the average sale price of farms in Indiana from Jan. 2007 to Jan. 2017. Courtesy of MIBOR.com)
So when you ask that question to a quality realtor, you'll probably get questions in response. What market are you looking in? Are you looking to buy, sell, lease, rent or invest? What geographical market are you looking in? Who are you asking for?
At any point in time, the different markets are all doing different things. What are they doing now, you may ask? Well I'll give you a rundown.
In an article published on inman.com, the writer, Amber Taufen, looked forward to the year to come, 2017, from the pretty similar lense of December 2016. What was deduced? 2017 would once again be a seller's market. This trend has been on the up-and-up for most places in the U.S, but the particular cities pointed to in this article were Denver, Colo. and San Francisco, Calif.
"While I expect inventory levels to rise in 2017, it will likely remain a seller's market," Chief Economist at Windermere Matthew Gardner said in the article. "…Sellers will likely find that it will take a little longer to sell, but demand will still outstrip supply…"
Looking closer to home, an article by Chris Sikich put out by the Indy Star this May says the same things about the central Indiana market as the inman.com article says about the national market. The sellers are running the show.
According to the Indy Star article, property values are at an all-time high in central Indiana.
In Hamilton county, the leading county in this real estate boom, "sellers have the advantage, pushing median sales prices up 12.6 percent to $250,000," the article said. "Just a decade ago, the median home price was roughly $200,000."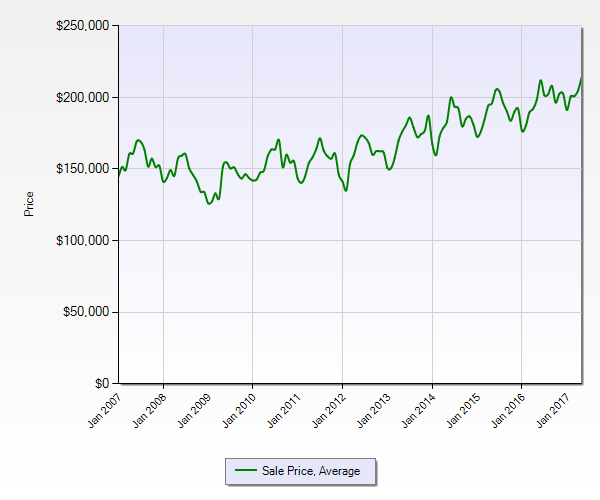 (This graph depicts the average sale price of single family homes in central Indiana from Jan. 2007 to Jan. 2017. Courtesy of MIBOR.com)
But what does it mean to be a seller's market?
Basically, the seller's are in control. There are more buyers looking for homes than there are homes actually for sale. Therefore, homes will go faster and hopeful buyers will see their dream home snatched right from their grasps as they're filling out an offer just a little later than the lucky buyer before them.
Here's an example. As I am writing this article, a house we put on the market has had 17 showings, three offers and an accepted offer all in less than 24 hours of being on the market.
With all that being said, the inman.com article says that the market could begin to shift in favor of the buyer sometime around 2018 and 2019. This means that there will be more homes available than there are people looking to buy; vice versa of the seller's market.
What this all boils down to is that the market isn't simple. There's so many different factors that go into each individual market that then, in turn, weigh on the other markets. It's a big, jumbled mess in every sense of the word. But, if you know a little about it, it can be pieced into smaller bits and analyzed in a way that can help prospective buyers and sellers know what they're getting into.
So the next time you ask your realtor buddy "How's the market?" be prepared to get asked questions in return.
*If you haven't seen "The Big Short," go watch it before you even start looking into the market. It's good, it's clever, it won some Oscars, but more importantly it'll help you understand the complexity of the market a little better.